Voice Products - Polycom
Polycom Board Room Solutions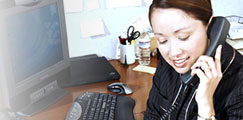 Polycom® has been the worldwide conference phone market leader since 1992. We redefined voice conferencing with the revolutionary SoundStation VTX 1000®, moved conferencing outside the conference room with the wireless.
SoundStation2W™, set a new standard for business quality conferencing with the SoundStation2™, offered a SIP-enabled conference phone with the SoundStation® IP 4000 and now deliver this legendary voice quality to the PC with Polycom Communicator.
Polycom is also the leading independent supplier of standards-based IP phones. Polycom offers a choice of supported call control platforms and an assortment of IP phone models to meet the unique communications requirements of your organization. Polycom IP phones are engineered to deliver a superb communications experience. They offer outstanding sound quality, advanced functionality, ease of use, simplified configuration and upgrades and protection of your investment over time.
With industry leading acoustic echo cancellation, patented noise cancellation and easy-to-use configuration software, the Vortex® products perform well even in challenging acoustical environments and produce clear, crisp voice quality - even during simultaneous conversations. The Vortex product line offers a range of solutions from single input to multi-microphone solutions with automatic microphone mixing, matrixing, and equalization for the most sophisticated environment.
Featured Products
Polycom's CX family of Microsoft® Office Communications Server 2007 optimized telephone devices delivers the high quality, high definition wideband audio experience users expect from Polycom. The Polycom CX family provides full, convenient access to the advanced presence enabled features of the Microsoft Office Communications Server 2007. The end-to-end solution consisting of Polycom end points, Microsoft Office Communications Server 2007 and Microsoft Office Communicator 2007 is a complete unified communications experience that provides for a significantly lower total cost of ownership.

Read More...
Large Conference Rooms

Learn more about our solutions for larger environments, including Vortex installed voice systems and the SoundStation VTX 1000 conference phone.
Small and medium-sized rooms

Learn more about our conference phone solutions for small to mid-size meeting rooms.
Desktop

Learn more about our desktop solutions, including SoundPoint IP handsets and Polycom Communicator PC speakerphones
Mobile

Polycom® Communicator is a portable and affordable personal speakerphone that enables a hands-free experience.
Voice Accessories

Extend and expand the capabilities of your Polycom voice solutions with an accessory that's right for your conferencing application.