Voice Products - Polycom
Polycom Conference Phones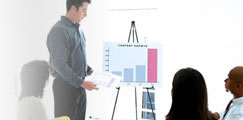 Your conference room phone is one of your most valuable collaborations assets. But even in smaller or medium-sized conference room, calls are productive and efficient when participants can hear clear, crisp voice quality - even during simultaneous conversations. Only Polycom's Acoustic Clarity Technology delivers the best sound quality with impressive microphone range, ensuring all your conference calls are loud and clear.
Polycom brings unprecedented price and performance to voice conferencing and collaboration, making it an affordable productivity tool for more employees and organizations. No wonder that so many people around the world are using Polycom voice solutions to enhance collaboration and gain a competitive advantage, all while reducing costs.
From the conference room to executive suites and everything in between, Polycom has the right voice solution to enhance any business communication need.

Read More...
SoundStation2™

SoundStation2 is the industry standard in conference phones, with remarkable voice quality and microphone sensitivity.
SoundStation2W™

Soundstation2W gives you the freedom to conference anywhere team collaboration is important - even in rooms where there are no phone lines.
SoundStation2™ Avaya 2490

Equipped with smart technology, SoundStation2 Avaya offers 360-degree microphone coverage with intelligent mixing - so only the microphone closest to the speaker is on for crystal clear conferencing.
SoundStation2™ Direct Connect Nortel

SoundStation2 Direct Connect provides direct access to your Meridian PBX conferencing feature, allowing quick and easy connections of up to six locations in a single conference call without using a conference bridging service.
SoundStation® IP 4000

Designed for offices or small to medium sized conference rooms, the SoundStation IP 4000 provides remarkable room coverage in SIP-based IP environments.
VoiceStation® 300

Solution for smaller meeting rooms and offices, for up to four participants. Enjoy Polycom's legendary voice quality at an affordable price.
VoiceStation® 500

Connects via Bluetooth to your mobile phone or PC, or use for traditional phone calls, for the ultimate in versatility.
QSX™ 2.0

An easy-to-use and secure Web conferencing appliance for any meeting environment.