Video Products - Polycom
Polycom Video Conferencing Equipments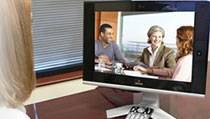 Walk into any conference room and chances are that you'll find people relying on Polycom Video Products for communication and collaboration. Instead of flying executives all over the globe, corporations gain a first-mover advantage and save millions in travel expenses by deploying video conferencing. And, virtual global teams put video conferencing to work managing engineering projects. Polycom Conference Room Solutions encompass a range of offerings to meet the needs of any meeting room, from small offices to large boardrooms and auditoriums. Regardless of your business environment, Polycom has the right video products and systems to meet your needs.
Large Conference Rooms

Polycom conference room solutions provide the industry's highest audio and superb video technology, maximum flexibility, input and output connectivity and robust management tools designed to fit even the most demanding environments.
Small and Medium Rooms

Polycom's VSX systems incorporate the latest audio and video standards. Video conference calls connect quickly and easily, while delivering excellent quality, all with a simple click of a remote control.
Desktops

Polycom's Desktop Solutions extends the conference room to the personal office environment and doubles as a PC display when not in use in a video call.
Accessories

Expand your Polycom Video Conferencing solutions with a wide range of video accessories.

Read More...